*This is a user-submitted post by Jordan Hashemi-Briskin*
It goes without saying that, since its debut in November 1969, Sesame Street has been the gold standard in children's educational TV. Begun as an experiment to help prepare disadvantaged kids for school, it has become an icon of popular culture, viewed in upwards of 150 countries and territories worldwide.
The four generations of us who grew up with Sesame Street no doubt remember it best for the colorful cast of characters—both human and Muppet—that inhabits the street itself. But it's important to remember that animation has played a huge part in its educational mission from the very beginning. So, in honor of Sesame Street's upcoming 50th anniversary, it is my honor to share a brief selection of some of my personal favorite animated segments from the show (in no particular order, mind you).

Animated by Tee Collins, this golden oldie (which actually first aired in the series' premiere) follows a day in the life of a witch called Wanda. One cold day, she decides to clean her wig, only to lose it to the wind the minute she takes it off. It's a rather simple premise, but it plays out with such campy verve that you can't help but enjoy watching it.
"This witch story was brought to you courtesy of the letter W."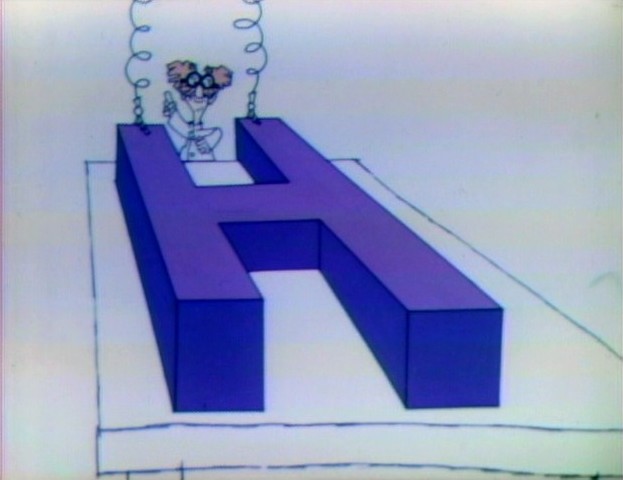 In a clever imagining of how letters are developed, a mad scientist (voiced with delightfully manic glee by Arnold Stang) creates the uppercase letter H. With obvious pride and relish, he crows about the H's virtues…until it turns rogue and runs away.
"Come home, H! Come home!"

Before Rugrats, Rocket Power, As Told by Ginger, and The Wild Thornberrys, Klasky Csupo produced short animated segments for a whole slew of companies, including a few segments for Sesame Street. This particular one, directed by Gary Schwartz, makes extensive use of what I have come to call "collage animation," with some hand-drawn elements scattered throughout. What really makes it stick with you, however, is the catchy-as-the-plague song that plays over it.
In a limerick demonstrating the sound of the letter H, we meet Harry, a stallion with a ridiculously long mane. Naturally, it causes him a few problems, including getting in his mouth and fluffing up his words when he tries to speak. (This always made me giggle when I was a kid.)
In the 1970's, the image of First Americans in popular culture was starting to shift away from the ethnocentric vision seen in Westerns and old literature, and Sesame Street helped contribute to this change. (After all, you have to teach children to respect differences at an early age.) This is clearly evidenced in the above cartoon, where a First Nations boy disavows a pair of white kids of their use of "Tonto speak." (Incidentally, this segment was produced towards the start of the 6-year period when singer/songwriter and activist Buffy Sainte-Marie—herself a member of the Plains Cree Nation—appeared on the show, helping to educate children about the true nature of First Americans.)
Animated by Jeff Hale (who also created the wildly popular "Pinball Number Count" series"), this short animation exhibits various animals and sprite-like characters forming the letters of the alphabet, set to a very soothing musical arrangement. (Although, to be nitpicky, I must question how the squirrel forms the letter S, based on the way it holds up its tail…)

In this segment, Anansi—the Keeper of Stories—recounts an old Tanzanian folktale that teaches how inability (or unwillingness) to admit a mistake can have huge consequences. Ossie Davis (whom my fellow Disney fans may recognize as the voice of Yar) shines in the role of Anansi, and the animation—courtesy of Fred Garbers—is bright, colorful, and highly evocative of African pictorial art.
When you watched Sesame Street, what were your favorite animated pieces from the show? Feel free to share below!