It's hard nowadays to pull off having a bad guy who evil for the sake of just being plain evil, especially in a society that's now obsessed with shining a sympathetic light on the bad guys and, in some cases, recasting them as anti-heroes (Loki from the Marvel Cinematic Universe, Maleficent, and just recently, Dracula Untold). Therefore, it takes some really good writing to make us (at the very least) fascinated with someone who is a complete psychopath.
With that being said, I introduce you to the subject of this latest segment in our Villain Vignettes series: Lord Shen.
WARINING: Spoilers for Kung Fu Panda 2 ahead!
Birth of a Tyrant
Like I said in the introduction, Lord Shen is more on the 'psychopath' side of the villain scale. More akin to a Shan Yu than a Prince John. Basically imagine Shere Khan; however, with absolutely none of Kahn's coolness but with all the ego and cunning amped up to 11, all shot through with a deadly narcissistic edge.

Voiced brilliantly by Gary Oldman (a point I'll touch on later), he starts out as the son of a peaceful ruler of Gongmen City. At some point, he discovered how fireworks can be used as a instrument of aggression and begins to weaponize it to his advantage (think about how an evil scientist operates). It's only when the Soothsayer comes to him with a prophecy forewarning his defeat at the hands of "A warrior of black-and-white" that his already treacherous ways take a hard turn of south and he goes on a conquest to exterminate the panda population.
Despite having done this (partly) as a way to prove himself, his horrified parents decide to exile him for his genocidal behavior. In the present day, he comes roaring back to Gongmen City in an effort to erase kung fu and conquer all of China.
Unbeknownst to him however, his genocide of the pandas only sets in motion events that will lead to a serious beatdown by Po.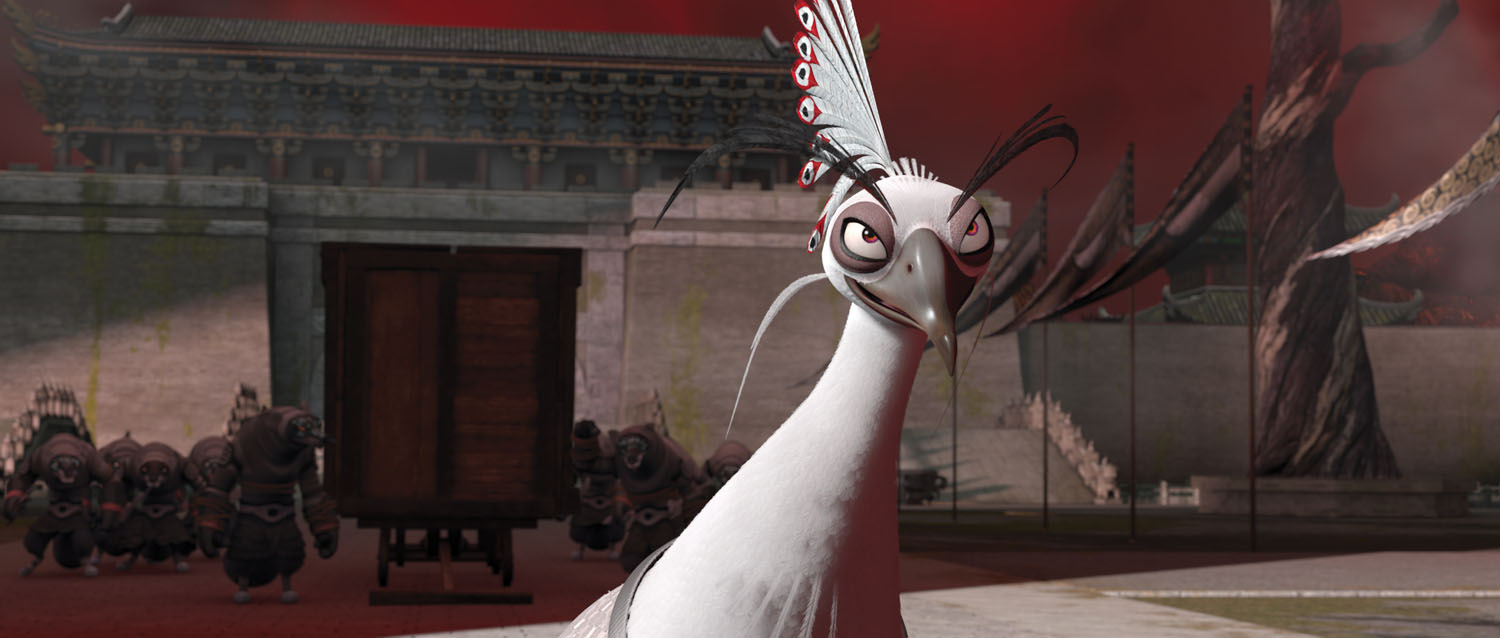 The Madman Done Right

Again, it's not easy to have a traditional bad guy in a movie and do him right. And that's where Dreamworks Animation succeeds with Lord Shen. Gary Oldman is known for being an incredible character actor, and it shows even as he's only behind the mic as Lord Shen. Just with his voice alone, he gives Lord Shen a dominating presence and even as he acts as his evil self, he's not simply cackling and twirling a mustache. The way he talks and acts around others (his goons, the Soothsayer, Po, etc) really serve to bring out the traits of a severely damaged and increasingly paranoid hot mess of a person.
I also want to give credit to the writers for actually making him a real threat. As in, he actually kills people and has a no-holds barred approach in doing so. When he first storms into Gongmen City, he resorts to blasting Master Thundering Rhino to pieces with his cannon (in front of his pupils). Later on he goes so far as to cannon-blast his parent's tower down in order to get rid of Po and the Furious Five. And then we find out that, in the process of killing the pandas, he murdered Po's mom.
His ruthlessness doesn't even spare the people who work under him. Near the end, he kills his only friend and loyal confidant (the wolf boss) when he refuses to fire on his own men! That death is made even more surprising by the fact that it's shown onscreen. We actually see Shen strike him down with his  There's no 'you failed me for the last time!' speech here. The wolf boss just gets a wave of throwing knives to the throat and he promptly falls off the side!
It's because the writers allow him to freely showcase his bloodthirsty tendencies that the film actually has a real sense of danger and threat. Before meeting his end in a very ironic fashion, he's slain people left and right and made something of a mess in Gongmen City. With him stomping around the way he did, you didn't know who was going to get it next, and if that's not the mark of a truly great villain, I don't know what is!
A Tragic Case
While it's not entirely explained what drove him to become power-hungry, it doesn't take much to discern that he probably had a very bad case of mommy/daddy issues, which may have led to his discovery of the use of fireworks as a weapon. This can be verified by a later conversation between him and the Soothsayer, where he basically reveals himself to be more driven by the crushing trauma of being viewed as disgraceful by his parents (and is thus taking it out on the rest of the world) than any actual desire to take over China.
Alternatively, it's heavily implied by the director's commentary that Shen indeed has a sense of morality, wherein he decided to continue down his destructive path since there was no way he could reverse his genocidal acts.
The conversation might just be one of the best moment put to animation, simply for the perfect marriage of Gary Oldman's brilliant voice acting and the nuance of the character animation. You don't feel any sympathy for Lord Shen (nor are you asked to do so), but you are given a fascinating insight into the inner workings of his scrambled mind.
"The dead exist in the past. And I must attend to the future."
Conclusion

In conclusion, Lord Shen is easily one of the most terrifying and legitimately threatening villains in animation yet, and rarely does that ever get said about other villains in animation.
He's a stone-cold killer, an unbelievable narcissist, and a straight-up psychopathic moron. Could he have been a good guy in another universe? One can only guess.
Furthermore, his destructive actions may still have lasting ramifications for Kung Fu Panda 3, potentially resulting in the creation of another destructive villain down the road (as in, Po's real dad).