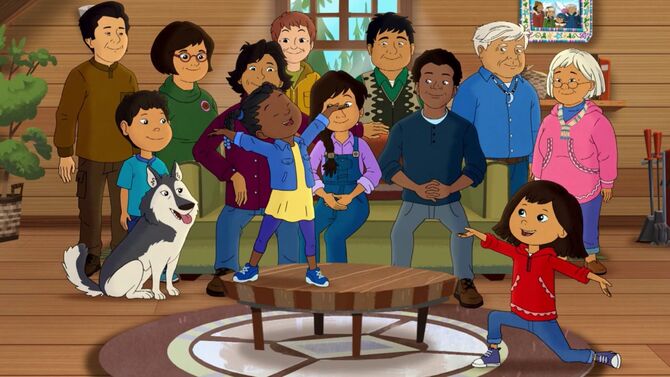 *This is a user-submitted post by Jordan Hashemi-Briskin*
To risk belaboring the point, representation in the media matters now more than ever. In an age when xenophobia and discrimination are actively encouraged by our nation's leaders, it's essential that we strive to learn more about other cultures and teach our children the importance of accepting our differences at an early age. Unfortunately, some groups are often excluded from discussions of media representation, with the First Peoples of North America being excluded most blatantly. As such, I cannot overstate how grateful I am for the presence of programs like Molly of Denali, which premiered on PBS last July.
This new series follows the daily adventures of Molly Mabray, a 10-year-old girl of mixed Gwich'in, Koyukon, and Dena'ina lineage, who runs the Denali Trading Post with her parents in the fictional Alaskan village of Qyah. When not minding the trading post, she's usually out exploring the outdoors with her two best friends, Tooey Ookami (a boy of Yup'ik heritage) and the Texas-born Trini Mumford (who is African-American).
Let me start by saying that, in a cast full to bursting with delightfully likable characters, Molly is an absolutely fantastic protagonist: friendly, smart, resourceful, eager to learn, and positively overflowing with enthusiasm. Her cheerful outlook and her vivacity are so infectious that you just can't help falling in love with her. Among her many other positive traits are technological savvy and an intense pride in her heritage, which she is always more than happy to share with others. Considering all things, Molly makes a wonderful role model for young viewers.
As I stated before, the First Peoples of North America have historically been underrepresented in the media, and their portrayal hasn't always been ideal, ranging from the deliberately racist images of the early to mid-20th century to some well-meaning, but still highly flawed, attempts of more recent times (one standing out in particular). Thankfully, being the first nationally broadcast kids' show featuring an Indigenous lead, Molly of Denali helps to rectify this, showing that Indigenous peoples are not merely relics of the past, and that their cultures are still very much alive. That being said, the show does not hesitate to address the most unpleasant aspects of Indigenous history, with the first episode addressing the past campaigns of forced cultural assimilation; it broaches the topic in a sensitive, intelligent way that young children can easily understand.
All in all, Molly of Denali is a gem of a program that has come along just at the right time. A step in the right direction in terms of representation, I can't sing its praises loudly enough, although I must say, I hope that it lasts for much longer than Sagwa did.
Have you seen Molly of Denali? Let us know in the comments!