Would you be interested in a darker take on Toy Story? Keep that question in mind as we bring you news of an upcoming movie that could be just that.
Cartoon Brew recently reported that indie comic artist Tony Millionaire and Matt Danner (of Dan Vs. and Xiaolin Showdown fame) are teaming up to bring Millionaire's Sock Monkey series of comics and illustrated storybooks to the big screen. Now, what is Sock Monkey?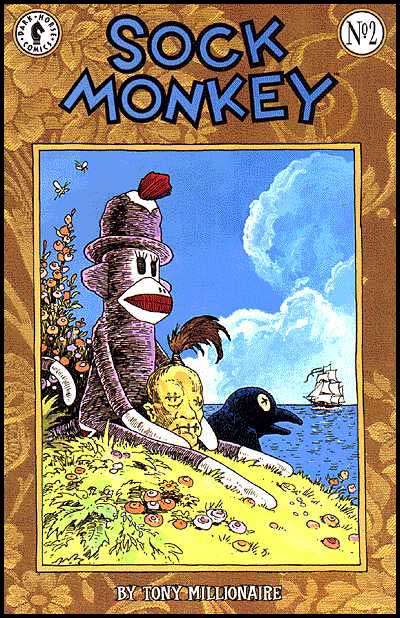 Published by Dark Horse Comics and Fantagraphics, the Sock Monkey books chronicle the exploits of Uncle Gabby (the title character) and his companion Mr. Crow. These books were inspired by Millionaire's childhood experiences of being in his grandparents' Victorian house.
Furthermore, the books were intentionally written as to be homages to the classic children's literature and storybooks that he grew reading as a kid. However, when asked about the target audience of the books, Millionaire explained that they aren't so much aimed at kids as they are "for adults who remember and love great old kids' books."
As such, the content of the books tend to fluctuate heavily in their appropriateness for kids. As Millionaire remarks: "some of the Sock Monkey books I do are for kids, and some are definitely not." And overall, the books are notable for their intricate artwork, dark humor, and quaint, vaulted dialogue (it's also worth noting that Mr.Crow has a fondness for alcohol).
The announcement of the film comes to us not long after Matt Danner posted a charming live-action/CGI proof-of-concept video to his YouTube channel (which you can watch below):
This is not the first time that Matt has dabbled in Millionaire's source material. He also directed all 10 episodes of the short-lived Adult Swim series The Drinky Crow Show (co-created by Millionaire). He also co-wrote a brand new Sock Monkey book with Millionaire, titled Sock Monkey: Into the Deep Woods. Set to be published this month, the book will serve as the basis for the film's story. Here's the basic description of the plot of the film and the book it's based on:
"Uncle Gabby the sock monkey, the stuffed Mr. Crow, and the porcelain doll Inches go on a rescue mission to save their human owner, Ann-Louise, who they fear has been kidnapped by a monster. Along the way, they encounter fanciful creatures including the Trumbernick (the pixie shaman of the forest), a giant sea monster, the Guardsmen of Bear Town, and a flock of flying harpies."
As you can already tell, this won't be your regular animated film and Danner reiterated that fact when speaking to Deadline. Describing the film as having more in common with Harry Potter and Coraline than Toy Story (tone-wise), he said the following: "It's for families, but it has real danger and gravity."
Mark Danner has already penned the script and plans to make Sock Monkey his first feature-length debut as director. He and Millionaire are currently shopping the project around Hollywood. Given the subject matter of the project, I wouldn't be surprised if it ends up at either Reel FX or LAIKA.
What do you think? Are you looking forward to this movie?