Thanks to the generosity of publisher Insight Editions, I've finally got my hands on my most prized art book of the year, Godzilla: The Art of Destruction!
This art book turned out to be not just an art book, but a behind-the-scenes look at the making of  Godzilla. It goes into all the stages of the film's production, from initial brainstorming to pre-viz, story, casting, cinematography, set design, visual effects, and so on. Expect ample commentary by Gareth Edwards and the production crew, as well as a few anecdotes by some of the cast. In fact, there's a lot to read as well as look at.
I've been reading through all the text in sections, and I've learned about some cool production stuff. For example, there's a section of the book explaining how Legendary worked with the U.S. Navy during production. I also found a minute-by-minute recap of one of the creative meetings between Gareth Edwards and his visual effects team.
The book is also well-designed. It features a lot of material for a modest 168 pages. For the most part, the size and clarity of the images are satisfactory. The annotations are specific to the content and provide good context and insight to the images. I loved reading about not just the "how", but the "why" of the film's creative decisions.
I always appreciate seeing never-before-seen material in these art books. Godzilla: The Art of Destruction features plenty of scrapped designs and info on a few deleted scenes. You'll even catch a glimpse of the scene that was cut featuring Akira Takarada, who starred in the original Gojira (1954) and many of its sequels.
On that same note, the highlight of the book is an enormous fold-out section featuring the "evolution" of Godzilla's creature design. It tells you about the creative process of re-designing a CG Godzilla while maintaining the spirit of the original films. Here you'll get about a dozen pages of scrapped Godzilla designs ranging from the classic Toho look to some truly imaginative designs. The size and clarity of the images are impressive and they made me appreciate the final design for Godzilla much more.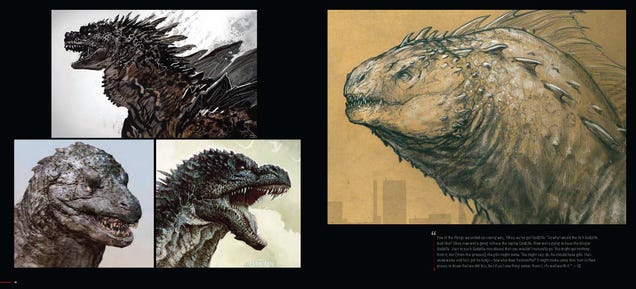 If you still aren't convinced that you want this book, consider that the book comes with a sweet 15″ x 21″ Godzilla movie poster. Yep. Thought so.
Godzilla: The Art of Destruction gets an impressive 4 out of 5 stars. It's going to be a long while before I shelf this one!
Purchase
Godzilla: The Art of Destruction: Amazon
YouTube Review