In the world of animation, as with live action, the stories that leave the greatest impression on audiences are generally those that tackle complex (and, oftentimes, timely) themes and resonate emotionally with viewers. Indeed, it's safe to say that some of the greatest animated films and TV shows possess these qualities. It wasn't too long ago, however, that animated television was largely reserved for what many people, unappreciative as they were of the art form, dismissed as fodder for frivolous comedy. Then, a show came along that bucked that preconception, opening the door for more serious storytelling, and enthralling a generation of viewers forever after. The series in question was Disney's Gargoyles (1994-1997).
Conceived by Greg Weisman, Gargoyles tells the story of a clan of winged humanoid creatures who spend daylight hours as immobile statues, and come to life at night, defending a castle on the west coast of Scotland. In the year 994 C.E., the clan is betrayed by the people they swore to protect, and many of them are destroyed in a raid, with the survivors, including their leader, Goliath, being hexed into stone sleep "until the castle rises above the clouds." A thousand years later, that's exactly what happens, after billionaire David Xanatos rebuilds their castle atop a skyscraper in New York City's Manhattan borough. From then on, the series follows the gargoyles as they adjust to life in a new land and new era, with the help of N.Y.P.D. detective Elisa Maza. All the while, they continue to defend their castle, eventually extending their protection to the city at large.
I first became acquainted with Gargoyles over 15 years ago, when I first watched the condensed VHS release of the 5-part pilot episode. Viewing the entire series as an adult, I can better appreciate just how fresh and innovative it was for its time. For one thing, it was the very first 100% original program of its kind. It was also the first animated series to deliberately follow intricate, multi-episode story arcs (which, in turn, aided in the development of the characters and the mythology of the program). For another, while there were certainly comedic elements to it (and genuinely funny ones, I might add), it wholeheartedly embraced its predominantly somber, tragic tone. And, perhaps most crucially, it addressed thought-provoking concepts in an intelligent, mature manner without talking down to its target audience. (In the latter respect, Gargoyles can be said to have been a key influence on such later shows as Liberty's Kids and Avatar: The Last Airbender.)
At its core, this program is both a critique of racial prejudice and a meditation on the nature of evil. It goes out of its way to stress that the capacity for both good and evil exists in everyone, and that morality is never black and white. In its discussion of prejudice, it broaches the topic through the lens of mankind's attitude towards gargoyles; people don't fully understand them, so they fear them and treat them with contempt, showing no gratitude for the protection that they offer. Despite this, there are some individuals, Elisa Maza among them, who are open-minded enough to see that gargoyles are, fundamentally, no different than we are. Thus, the show proves that, while the world is certainly full of problems, a better future can be attained if we all strive together to make the right choices and try to understand one another. And considering the troubled times that we currently live in, those steps are more necessary now than they ever have been before.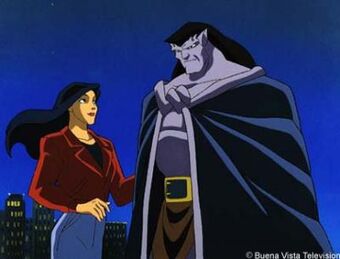 Of course, such sophisticated and perceptive storytelling requires engaging and complex characters, which Gargoyles boasts in spades. Every single member of the cast, human and gargoyle alike, is handled realistically, possessing the same mixture of noble and ignoble qualities as real people, and evolving as the series progresses. This particularly applies to the series protagonist, Goliath, and his mate-turned-enemy, Demona. From the get-go, it's made clear that they (and, presumably, the rest of their clan) both resent humankind's ingratitude for their guardianship, and are, understandably, distrustful of humans following their betrayal. Critically, though, Goliath understands that such ill treatment is borne of fear, and never loses hope of their two races someday making lasting peace; his friendship with Elisa also helps him to overcome his initial distrust after the spell is broken. By contrast, Demona allows her bitterness to consume her, and she vows never to stop until she has destroyed the human species as vengeance for the loss of her family, all while denying the fact that her inner pain is largely a result of her own actions. (Although Greg Weisman has said that she'll eventually reach a point where she can potentially redeem herself.)
In summation, Gargoyles is a program that truly stood apart from its predecessors on its debut, and it continues to serve as a shining example of an animated TV series with genuine substance: complex characters, universal and eternally relevant themes, and a rich mythology to its world. I cannot begin to state how glad I am to have finally seen this gem in its entirety, and I strongly encourage anyone who is unfamiliar with it, to dive right in.
Have you seen Gargoyles? What other animated show incorporates a complex cast, world building, and great stories?
This is a user-submitted post by Jordan Hashemi-Briskin.
Edited by: Kelly Conley