*This is a user-submitted post by Jordan Hashemi-Briskin*
In this current age of reboots and "re-imaginings" in the world of animation, I stand firm in the belief that while there's nothing wrong with exploring new angles on time-honored favorites, there's just no topping the originals. And as far as TV animation goes, one particular property illustrates this point perfectly: Teen Titans (2003-2006), created by Glen Murakami.
As with several other animated TV shows I have reviewed, I didn't watch Teen Titans during its initial run; most of my exposure to it actually came from frequent visits to its page on the Cartoon Network website. Therefore, I felt it necessary to really delve into the world of the program in order to actually appreciate it. (And, apropos of my opening statement, I started watching the series during the buzz around the recent film adaptation of the unimpressive and highly puerile Teen Titans Go. Please, let's not even go into what is wrong with that.)
Now, I need to admit right up front, while I showed some passing interest in a few classic superhero properties as a kid, I've never really delved deeply into the genre. (Truth be told, that hasn't changed.) However, having finally viewed the entire series, it strikes me as being not only highly engaging but also having a considerable degree of narrative and character complexity, which I cite as my primary criteria for whether a program is any good or not. And Teen Titans doesn't disappoint. For one thing, each character goes through significant development over the course of the series, while still maintaining some consistency in their personalities (Robin as the focused, hardheaded, no-nonsense leader of the troop; Raven as the cynical, stoic, down-to-earth pragmatist; Starfire as the bubbly and somewhat naïve eternal optimist [as well as the "Funny Foreigner," to the point that she even puts Ziva David to shame]; Cyborg as Robin's more lenient second-in-command; and Beast Boy as the happy-go-lucky jokester who seldom takes things seriously), thus allowing audiences to identify with whichever member the team reflects their personality the most. For another thing, the writers managed to create a very seamless sense of continuity between the various different storylines. And thirdly, when the Titans are called into battle, the stakes are genuinely high, and you're left in suspense as to whether either the heroes or the villains will prevail. (Compare this to The Lion Guard, where the resolution of each conflict can be seen from 1,000 miles away.)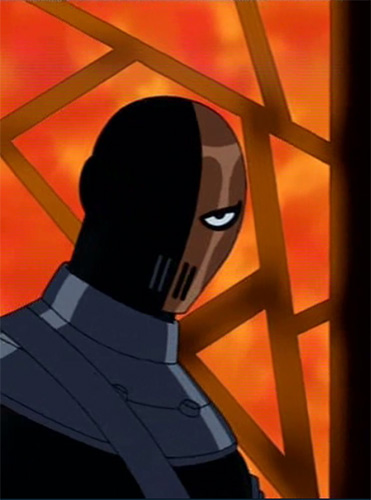 But as the old saying goes, heroes are only as good as their villains. This in mind, let me go on the record as saying that Slade—the principal antagonist of the first three seasons—is quite possibly the most chilling animated villain I have ever seen. His masterful way of manipulating others suggests that he has a keen understanding of psychology, allowing him to effectively get inside people's minds and prey upon their insecurities and weaknesses, which is scary enough in itself. But the fact that he also tends to work behind the scenes and almost never loses composure really pushes him onto a level of evil comparable to Scar or Queen Grimhilde, in my opinion. Upping the creepiness factor even more is Ron Perlman's calculated, collected cadence and eerily silken voice. However, I must admit that I would have liked to know what his exact motivations were.
Teen Titans is also a very striking series from an aesthetic standpoint. One wouldn't necessarily expect the art styles of Japanese and Western animation to mesh together very well, but in this case, they do. The character's movements are naturalistic and highly nuanced, and the animators make great use of the various visual touches indicative of Japanese animation—sweatdrops, physical shrinkage out of fear, and exaggerated facial expressions correlated to emotion. Not only that, but as perhaps befits animation based off comics, the colors are sharp and vibrant.
The long and little of it is, the original Teen Titans has the trappings of a TV animation classic, and it deserves much better continuation than the cringe-inducing mess that is Teen Titans Go. Furthermore, it seems as though there were a lot of loose ends left after the original series ended. Luckily, a new season may be just around the corner, which will hopefully address those issues. If so, count me among those who are tingling with anticipation!
Did you enjoy Teen Titans? Tell us why in the comments!
Edited by: Kelly Conley