*This is a user-submitted post by Jordan Hashemi-Briskin*
I'm sure all of you are already aware of this, but it bears restating for the purpose of this review: In recent years, cultural and ethnic diversity has become an increasingly important issue in Hollywood (both in live action and animation), with filmmakers and TV producers making admirable efforts to make sure that people of minority groups are portrayed realistically and given equal opportunities. I've come to notice that the best films or shows centering around people of color (POC) are generally produced by people of the backgrounds represented. Case in point, the classic Disney Channel series The Proud Family (2001-2005).
Created by Disney animator Bruce W. Smith (supervising animator of such Disney characters as Dr Facilier, Pacha, and Kerchak), this series follows the daily life of Penny Proud, a 14-year-old African-American girl living in Southern California and her family: level-headed and no-nonsense mom Trudy; inept, childish and overprotective dad Oscar; yearling twin siblings BeBe and CeCe; and unfiltered, hip and hilariously acid-tongued paternal grandmother, known to all- even those outside the family–as Suga Mama. (For the record, she's my personal favorite member of the principal cast.)
I only first watched the series for myself this year, and one thing I noticed right off the bat, and which I greatly appreciate, was the way in which Penny was handled. Her parents have raised her to be a person with integrity, a solid work ethic, and a healthy respect for her family, but at the same time, she often displays a significant amount of teenage angst, feeling frustrated with the fact that she's still treated like a child when she's rapidly advancing towards adulthood. (Not to mention the fact that she frequently caves in to peer pressure.) As most TV teens fall solely into the latter category, this degree of complexity makes Penny a very interesting and relatable character.
As I said at the start of this review, the best films and TV series with predominantly POC casts are generally the work of people who belong to the ethnocultural groups that are portrayed. And given that The Proud Family is one of a long line of TV series focusing on the African-American community (other notable examples include The Cosby Show, Empire, Sanford and Son, and Black-ish) and is an animated show, it strikes me as going more of the way in presenting a balanced view of African-American life than most others I've heard of. However, there are some elements here and there that are highly evocative of negative stereotypes of African-Americans, however unintentionally; for example, one article I've read has opined that the Gross Sisters (three neighborhood bullies who frequently extort money from Penny and her friends) reflect the image of black criminals, while Dijonay Jones (Penny's best friend), the frequently reluctant caregiver of her nine younger siblings, supposedly "reinforces stereotypes around lazy black mothers," though I'm inclined to think that this last one is a wee bit of a stretch. (I would like to state, however, that Penny's uncle Bobby most definitely fits the stereotype of the "jive-talkin' soul brotha" to a T, what with his being a washed-up 70's-style funk singer.)
Regardless of these issues, though, one can't deny the fact that the creators of The Proud Family made an honest effort to create characters whom viewers could relate to and root for and portray them as imperfect, flesh-and-blood human beings, rather than falling back on archetypes. For the record, I would also go so far as to say that this was Disney's first animated production with an African-American protagonist. (Pity that it took the feature animation division until 2009 to create their first leading character of the same background.)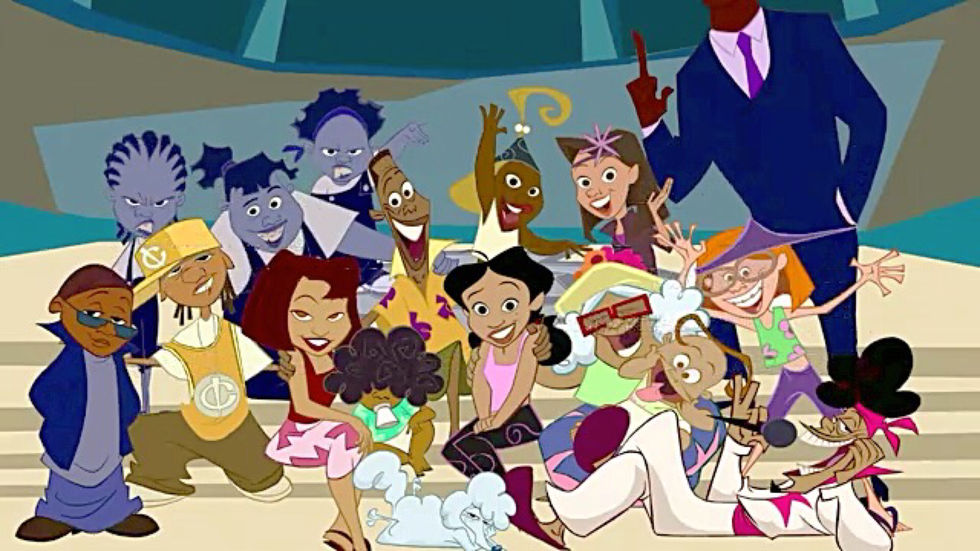 Overall, The Proud Family is a true-blue delight from the first episode to the last, with fun characters, outrageous situations, and plenty of humor, heart, and attitude to spare. From its three-dimensional protagonist to its remarkably progressive portrayal of Americans of color, it truly is a classic of Disney television animation.
Did you grow up watching The Proud Family? What did you think of it? Let us know down below!
Edited by: Kelly Conley